Social Program
Welcome Reception at Vienna City Hall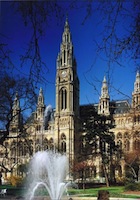 On Monday the 2nd of December 2013 the welcome reception will be held at the Vienna City Hall hosted by the Mayor of Vienna.
The City Hall is one of the most splendid amongst the numerous monumental buildings along Vienna's. Designed by Friedrich Schmidt (1825-1891), it was erected between 1872 and 1883. The City Hall was built in gothical style, with a tower similar to gothic cathedrals. The gothic era saw the growth of the cities and the emergence of an urban burgeoisie. Today the City Hall is the head office of Vienna's municipal administration. More than 2000 people work in the building. Visitors are stunned by the magnificent appointments of the state rooms, which frequently provide an atmospheric backdrop to various events such as press conferences, concerts or balls.
For more detailed information on this venue please visit the Vienna City Hall webpage (click here).
Conference Dinner at Palais Niederösterreich

On Tuesday the 3rd of December 2013 the conference dinner will be held at Palais Niederösterreich in the heart of Vienna.
Palais Niederösterreich can look back on a long and eventful history. It originally housed the Estates, political representatives of landowners, knights, prelates and municipalities, the forerunners of the present-day Lower Austrian provincial government. They acquired the Landhaus in 1513 so as to be near the local ruler and to be able to meet in Vienna. Precious late Gothic remnants of this Landhaus such as the chapel and Gothic rooms have survived. The Landhaus was lovingly restored from 2002 to 2004 as a listed monument and is now a highly attractive event venue in the heart of Vienna.
For more detailed information on this venue please visit the Palais Niederösterreich webpage (click here).