iiWAS 2004 will be held at September 27-29, 2004, in Jakarta, the capital city and business center of Indonesia. A city with a rich cultural heritage and history. The conference will take place at Syarif Hidayatullah State Islamic University (UIN) Jakarta, which is located in South Jakarta. Therefore iiWAS2004 official travel agent MDL Travel had carefully chosen a selection of superior hotels as follows :


| | | | |
| --- | --- | --- | --- |
| | Recommended hotels nearby to the Conference Venue | | |
| | | |
| --- | --- | --- |
| | Hotel Ambhara | |

Located in the heart of Jakarta's entertainment and shopping area, and adjacent to Pasaraya Grande, an exceptional shopping center in Jakarta that features the largest handicraft display and selection in Indonesia and a host of entertainment outlets. Only minutes to the Central Business District. 30 minutes drive from the venue.
Superior* Rp. 500,000,- nett
Address Jl. Iskandarsyah Raya
Jakarta Selatan
Phone : +62 21 2700 800
Web site : http://www.ambhara.co.id

The above rate inclusive:
21 % Government tax and service charge
Buffet breakfast
| | | |
| --- | --- | --- |
| | Grand Kemang Hotel | |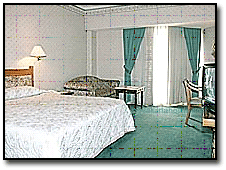 It is located in the South of Jakarta, in the elite and quite residential area and is close to the extensive shopping, cafes, restaurants area, which promotes a lifestyle of mingling and hanging out with friends. Long a favorite of frequent visitors to Jakarta, the Hotel Kemang is known for its pleasant and engaging interior. The hotel is about 25 minutes away from the conference venue.

Superior* Rp. 450.000, - net
Address Jl. Kemang Raya 2, H Kebayoran Baru, Jakarta 12730
Phone 62 21 719 4121
The above rate inclusive:
21 % Government tax and service charge
Buffet breakfast
It is a hotel campus that is located in the other area of UIN Campus 2 with adjacent to the faculty of graduate studies building and faculty of psychology building. Campus lifestyles will be sensed in this hotel. It is about 1KM away from the main Campus approximately 35 minutes walking.

Deluxe* Rp. 65.000/person
Address :
Jl. Kertamukti no. 5
Campus 2 UIN Syarif Hidayatullah
Ciputat, Jakarta 15419
Note:
The above rate is for room only

Breakfast excluded

Each room have air-condition and private bathroom

Each room have 2 beds for 1 person each, the rate will be doubled when the room occupied by one person only
| | | |
| --- | --- | --- |
| | Hotel Kristal | |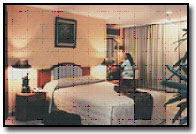 Hotel Kristal is located at the exclusive residential area of Pondok Indah South Jakarta, next to Jakarta International School. Nearby to outer ring road connects to City main toll road. Hotel Kristal has a unique combination of 4 stars hotel service and apartment accommodation. It is about 15 minutes drive to the venue.

1 bedroom suite* Rp. 590.000
Address :
Jl. Tarogong Raya
Pondok Indah
Jakarta Selatan

Phone : +62-21 750 7050
Website : http://www.hotelkristal.com

Note :
| | | |
| --- | --- | --- |
| | Hotel Santika Jakarta | |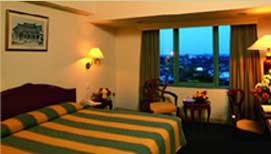 The elegant four-star Hotel Santika Jakarta is our newest luxury hotel, and the flagship of Santika Group. Conveniently located on the fringe of the main business of town, and within easy reach of Soekarno-Hatta international airport through City Tool Road, Hotel Santika Jakarta's superb location puts you right in the middle of the action, combining a bird's eye view of Jakarta.
It is a bit far from the conference venue but it takes only 40 minutes driving trough City toll road.
Standard* Rp. 450,000,- nett
Address Jl. AIPDA K.S. Tubun No. 7
Slipi Jakarta 11000
Phone +62-21 5330350, 5361777
Website http://www.santika.com
*The above rate inclusive:
| | | |
| --- | --- | --- |
| | Atlet Century Park Hotel | |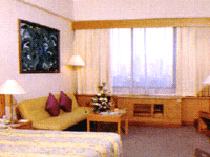 It is located right in Jakarta's central business district with adjacent to the Senayan sports complex, the unique complex in an international city comprises of a multi functional sports stadium a sports hall, baseball diamonds, golf course and associated driving range. Directly to the back of the hotel and five minutes walking, is the Plaza Senayan shopping centre that houses 300 retail outlets with branded products and restaurants. This hotel is about 45 minutes away from the conference venue.

Standard* Rp. 420.000,- net
Address :
Jl. Pintu Satu Senayan
Jakarta 10270

Phone 62 21 571 2041

*The above rate inclusive:
21 % Government tax and service charge
Single or double occupancy
Buffet breakfast
To reserve, please fill in the Hotel Reservation form and send it back to Fax: +62 21 83700109 (Att. Mrs. Diar Tambunan)
The travel agent will inform you of the confirmation of your accommodation and the payment method

If you have special requirements for your accommodation in Jakarta, please send an email to accommodation@iiwas.org , or contact directly our official travel agent
MDL Travel Service
Jl. Pal Batu III No. 58 Casablanca
Jakarta 12870 - Indonesia
Tel.: +62 21 83700110, 83700111
Fax.: +62 21 83700109
Email : mdl_travel@yahoo.com
Please make your hotel reservation as soon as possible. After September 1st, 2004, all reservations are subject to room availability.
The above hotels information and packages are provided as a courtesy to the participants of iiWAS2004. Neither UIN nor the conference organizers are affiliated in any form with hotels and MDL Agent services. Hotel and MDL Agent assumes full responsibility of all the rates provided and the fulfillment of all their obligations.