Kuala Lumpur – Impressions
After years as a Southeast Asian runner-up, Kuala Lumpur (KL) is on a winning streak. More fun and easier to negotiate than Bangkok, grittier than Singapore and more eclectic than Hanoi, the buzz about KL is as palpable as its intoxicating aromas petrol fumes and also their food stall altogether.
Kuala Lumpur 2009
In the same way, the city brings together Malaysia's past and present, its many constituent cultures, and even its remarkable natural treasures, allowing first-time visitors an invaluable opportunity to see Malaysia as a whole before setting off to explore its parts. In the botanical and bird parks of the Lake Gardens one is treated to a first glimpse of the unsurpassed beauty and variety of Malaysia's plants and animals. In the vibrant Central Market, music, crafts, and cultural practices from Kelantan to Sarawak can be explored and experienced. And in the National Museum, the dizzying multiplicity of Malaysia's cultural history comes into focus. As the entry point for most visitors and the meeting point of the country's many attractions, Kuala Lumpur is a grand gateway to a fascinating destination.
(more information).
Dataran Merdeka (Merdeka Square)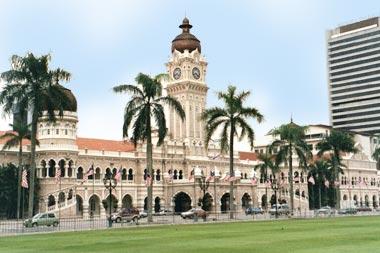 More than any other spot in the country, Kuala Lumpur, or "KL" as it is commonly known, is the focal point of new Malaysia. While the city's past is still present in the evocative British colonial buildings of the Dataran Merdeka and the midnight lamps of the Petaling Street night market, that past is everywhere met with insistent reminders of KL's present and future.

The city's bustling streets, its shining, modern office towers, and its cosmopolitan air project an unbounded spirit of progress and symbolize Malaysia's unhesitating leap into the future. To some, this spirit seems to have been gained at the loss of ancient cultural traditions, but in many ways KL marks the continuation rather than the loss of Malaysia's rich past. Like Malacca five hundred years before, KL's commercial centre is a grand meeting place for merchants and travellers from all over the world.
Kuala Lumpur Tallest Building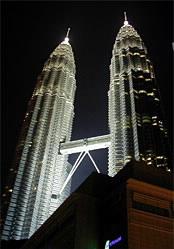 With a height of 1,453 feet, one of the world's tallest buildings rise above the skyline of Kuala Lumpur. They are called the Petronas Towers, and, inevitably, they have become the symbols for the astounding growth that has taken place in Malaysia over the last two decades.
Kuala Lumpur Attractions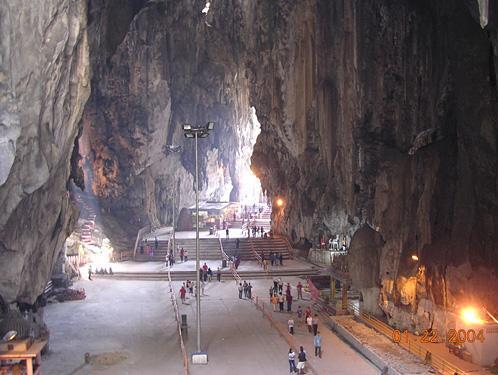 Visit the spectacular Batu Caves on this afternoon tour from Kuala Lumpur. Escorted by a professional guide, you'll view the Batu Cave Indian temple, a massive limestone outcrop and its cavernous interior.


Tourists can also witness the art of fine pewter crafting, batik designing and pass a typical Malay house. This massive limestone outcrop and its cavernous interior are home to Hindu deities. Friendly monkeys like hanging around the stairs and temple of Batu Caves. Make the journey up the 272 steps to fully appreciate this Hindu temple.