The conference venue will be at the campus of the
Faculty of Industrial Technology
Atma Jaya Yogyakarta University
Jalan Babarsari no. 44
Yogyakarta 55281
Indonesia
Telp. +62-274-487711, ext 2038, 2139
Fax : +62-274-485223
Atma Jaya Yogyakarta University, Indonesia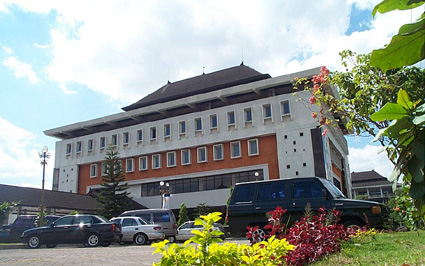 Founded on September 27th, 1965, Atma Jaya Yogyakarta University (UAJY) is a private higher education institution that is organized by non-clerical catholics and administered by the Slamet Rijadi Yogyakarta Foundation in the spirit of and inspired by the work and faith of Saint Albert The Great. The objective is to participate in the efforts of creating an intelligent nation through global-oriented education.
The name Atma Jaya is taken from the Sanskrit language. Atma means Spirit and Jaya means Supreme; together they mean The Supreme Spirit. The Atma Jaya Idea is to provide higher education quality with supreme education of moral values.
UAJY today has 6 faculties with 11 undergraduate study programs and 4 graduate programs (Masters'); the student body is 12.443. The programs are nurtured by 4 senior professors, 25 PhDs, 196 Masters, and 63 Sarjana faculty members (data of 2004). In addition, UAJY also invites part time instructors who are experts and practitioners nationwide and from abroad.
How to reach the conference venue and map of Atma Jaya Yogyakarta University location
The best way to reach the conference venue is by taxi. Taxis with argometers are available and offerdable. Just ask the reception desk at your hotel to order a taxi for you. Tell the taxi driver you want to go to "Universitas Atma Jaya" in Jalan (The Indonesian word for street) Babarsari. For larger size of map, please click here!
Conferences Rooms