Social Program
Welcome Reception
The Welcome Reception will be held on the 20th Floor of AeU at 7pm. Conference participants will get an opportunity to mingle around and get to know each other better. Light refreshments and finger food will be served.
Conference Dinner
The Conference Dinner will be held at the Pullman Putrajaya Lakeside Hotel which is located at No 2, Jalan P5/5, Presint 5, 62000 Putrajaya, Malaysia (adjacent to Putrajaya International Convention Centre). Participants will leave AeU at 6.30pm on buses provided to get to the Conference Dinner venue.
The dinner will be buffet style to encourage participants and guests to walk around from stalls to stalls and select their food. There will be a traditional dance show by the cultural troupe from Uniten. There will also be a batik show from a famous Malaysian Batik designer to introduce participants to the beauty and versatility of contemporary batik designs.

The bus will take all participants back at 10.30pm.
Pullman Putrajaya Lakeside Hotel
The Pullman Putrajaya Lakeside Hotel, the newest elegant addition to Putrajaya, the country's federal administrative capital, is the epitome of class, efficiency and a heaven of sensory delights with one of the largest signature spa facilities in Malaysia. Situated on the shore of Putrajaya Lake, its stunning architecture, ethinic yet stylish accomodation and thoughtful innovation, lend to the hotel's appeal which reached far beyond the business world.
Batik Presentation
by Masrina Abdullah
Masrina Abdullah is the renowned Malaysian Batik artist whose creations have won several honours and awards both at home and in the International scene. She was the first winner of the Piala Seri Endon in 2003, an annual award that artists in the batik world look forward to.

Some of Masrina's designs are inspired by shapes and curves of Malaysian art for example the ones derived from the shape and movement of the clouds known as 'Awan Larat' or from the ferns known as 'Sulur Pucuk'. The pictures below give us a glimpse of her creativity. Some of her exotic pieces were transformed into fashionable clothes for casual and evening wear. The clothes were worn by some of the Asia eUniversity staff.

Her batik paintings are also on display at the Asia e University Gallery Knowledge Centre, carrying the themes of "Relaxing Tropic" and "Unseen Call". According to Masrina, her inspirations for these were drawn from nature, and her interpretations of what is happening in the world. The depictions of the environment as the result of the interaction of man and the course of nature she believes- 'is the intervention of the divine power.'.
Masrina and one of her masterpieces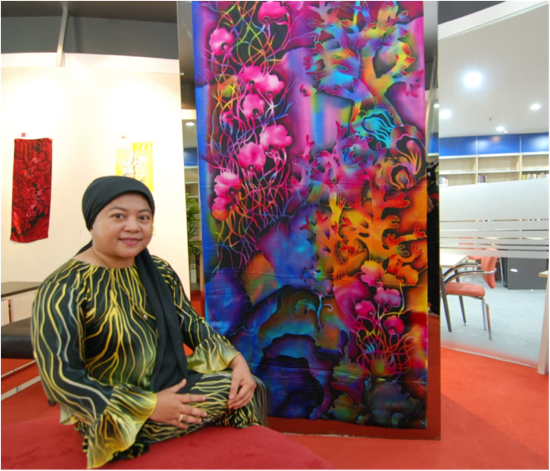 Batik for Every Occasion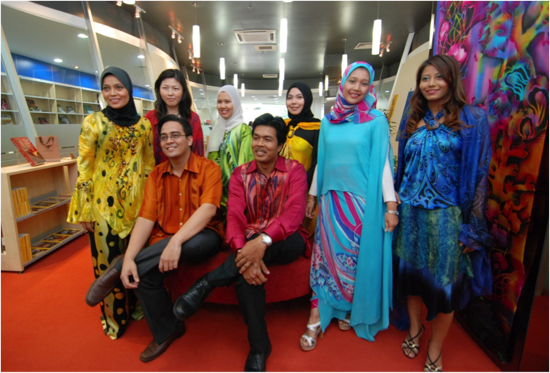 Batik Samples