Travel and Transportation
About Jakarta

Jakarta is the dynamic capital city of the Republic of Indonesia, a country composed of more than 17,000 islands with a population of over 200 millions. Comprising more than 300 ethnic groups speaking 200 distinct languages and dialects, the Indonesian population exhibit incredible diversity in its linguistic, cultural and religious traditions. As the nation capital, Jakarta is truly a "meeting point" of representatives from throughout the archipelago.
Jakarta is the lively social, cultural, economic and political hub of the nation, carrying a legacy of more than 30 years of largely uninterrupted economic expansion. It is home to many of the country's finest research institutions, educational facilities and cultural organizations, and uniquely serves both as the seat of national as well as regional government.

Strategically positioned on the west side of the island of Java, the Capital City is the principal gateway to the rest of Indonesia. From Jakarta, sophisticated land, air and sea transport is available to the rest of the country. Over the last several decades, Jakarta has proudly developed into one of Asia's most prominent metropolitan centers. With a current population 7.544.242 people, Jakarta has undergone dramatic growth.
---
Travel Tips
Passport and Visa
Citizens of 11 countries will get the VISA FREE to visit Indonesia: Brunei Darussalam, Chile, Hongkong, Macau, Malaysia, Morocco, Peru, Singapore, Thailand, The Philippines and Vietnam.
Citizens of 52 countries will be offered the facility VISA ON ARRIVAL, they are : Afrika Selatan, Amerika Serikat, Argentina, Australia, Austria, Bahrain, Belgia, Belanda, Brasilia, Bulgaria, Cyprus, Denmark, Emirat arab, Estonia, Finlandia, Hongaria, India, Inggris, Irlandia, Islandia, Italia, Jepang, Jerman, Kamboja, Kanada, Korea Selatan, Kuwait, Laos, Liechtenstein, Luxemburg, Maladewa, Malta, Meksiko, Mesir, Monaco, Norwegia, Oman, Perancis, Polandia, Portugal, Qatar, Republik Rakyat China, Rusia, Saudi Arabia, New Zealand, Spanyol, Suriname, Swedia, Swiss, Taiwan, Yunani.
The procedure on the airport should not take more than 7 minutes. Indonesia will charge foreigners US$ 25 for a 30-day non renewable visa or US$ 10 for a 3-day visit upon arrival.
Citizens of countries NOT on the "visa on arrival" or "visa free" lists will be required to apply for a visa before entering Indonesia.
---
Airport
Soekarno-Hatta International Airport is located approximately 26 km west of the city, or about a 20-minute drive to the heart of the business district where many of the major hotels are located. International flights come in and out of Terminal 2, while local flights use either Terminal 1 or 2. Soekarno-Hatta is serviced by 32 major international airlines.
Travelers departing from Soekarno-Hatta International Airport are required to pay an airport tax of Rp. 100,000. For domestic travel, the tax is Rp. 30,000 payable at the check-in counter at the airport.
Baggage Handling
Porter service is available at the Jakarta International Airport. Most properties with group tour business provide baggage handling services on arrival and departure. Rates and policies vary and should be confirmed with the supplier.
Customs
Custom allows a maximum of one liter of alcoholic beverage, and 200 cigarettes, 50 cigars or 100 grams of tobacco and reasonable amount of perfume per adult. There is no restriction on the import or export of foreign currency, however the import or export of Indonesian currency is limited to Rp. 5 million.
Moving About
From Soekarno-Hatta International Airport, take a metered taxi located in front of the arrival terminal. An additional surcharge from the airport is IDR 10,000, plus IDR 9,500 for the tollroad. Within the city, standard taxis are easily gotten at hotels, major building or flagged down. Flag fall is IDR 5,000 and IDR 2,500 for each additional kilometer. As for executive taxi Silver Bird, flag fall is IDR 6,000 and IDR 3,200 per additional kilometer.
It is advisable for you to always choose Blue Bird Group taxis as they are more reliable.

The Damri Airport Bus departs every 30 minutes between 3 am and 10 pm. to Gambir Station, Blok M, Kemayoran and Rawamangun. It costs Rp. 15,000,- per person.
---
Health Matters
Jakarta is a tropical city, which should call for some precautions for newcomers. Bottled water, of which there are many quality brands, is highly recommended. Water from tap, even in the best of hotels, should not be use for drinking unless it is boiled for several minutes. Ice in drinks should not be a concern, because ice vendors in Jakarta operate under strict government guidelines.
With hot tropical temperatures, sufficient liquid intake is extremely important to maintain good body balance. Care should be taken to avoid sunburn and exhaustion from too much exposure.
Unless one is a "seasoned" traveler, it is best to eat at hotels or well-established restaurants. Traditional food stalls (warung) and street carts (kaki lima) are fun to experience, but should be avoided for those visiting the city for only a short time.
International health certificates for smallpox, cholera and yellow fever are not required, except when arriving from infected areas.
---
Embassies
You can find the list of Embassies, the address and phone number in the following site:

http://www.beritajakarta.com/english/Address/embassies.asp. Hospitals

Here is list of hospitals in Jakarta, International Hospitals, Public Hospitals, and Private Hospitals.

http://www.beritajakarta.com/english/Address/hospitals.asp.
Shopping Centres
Here is list of Shopping centre in Jakarta.

South Jakarta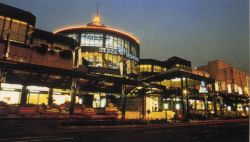 Plaza Blok M, Jl. Bulungan No. 76, Blok M. Hours: 10:00-22:00,Phone: 720-5586, 720-9288,720-9101
Plaza Senayan, Gelora Bung Karno, Jl. Asia Afrika No. 8, Senayan. Hours: 10:00-22:00, Phone: 572-5555
Pondok Indah Mall, Jl. Metro Pondok Indah Blok 3B, Pondok Indah. Hours: 10:00-22:00
Wijaya Grand Center, Jl. Wijaya II, Kebayoran Baru. Hours: 8:00-21:00, Phone: 720-4238
Mega Pasaraya, Blok M J
l. Iskandar Syah Raya Jakarta Ph. : (62-21) 7260170,
Jl. Sultan Agung No. 1 Manggarai - Jakarta Ph. (62-21) 8312674
Central Jakarta
Plaza Gajah Mada, Jl. Hayam Wuruk No. 19-26, Gajah Mada. Hours: 10:00-22:00,Phone: 231-1011
Jakarta International Trade Center (JITC), Jl. Arteri Mangga Dua, Mangga Dua. Hours: 10:00-18:00 Phone: 601-7771
Sarinah, Jl. M.H. Thamrin 11, Menteng. Hours: 9:00-21:00 Phone: 323-008
Plaza Indonesia, Jl. M.H. Thamrin No. 28-30, Facing Welcome statue on Bundaran HI. Hours: 10:000-22:00 Phone: 310-7272, 390-3728
West Jakarta
Mal Ciputra (Citraland) Jl. Letjen. S. Parman, Grogol. Hours: 10:00-22:00, Phone: 566-2121
Mal Taman Anggrek Jl. Letjen. S. Parman No. 21, Slipi. Hours: 10:00-22:00. Tel 560-9964
Mal Puri Indah, Jl. Puri Agung, Puri Indah. Hours: 10:00-22:00 Phone: 582-2582
North Jakarta
Mal Kelapa Gading, Jl. Bulevar Kelapa Gading, Kelapa Gading. Hours: 10:00-22:00 Phone: 453-0690
Megamal Pluit, Jl. Pluit Indah Raya, Pluit. Hours: 10:00-22:00 Phone: 668-3888
Weather
Located in the tropical zone, Jakarta's climate is hot and humid. The average temperatures range from 26°Celcius at night and early morning to up to 30°Celcius at noon. April to October is usually dry season in Jakarta, while November to March is wet season. However, even during dry season, one can expect occasional rains.
Electricity
Outlets and voltage (220 volts). Small appliances such as hair dryers, irons, razors, etc. can be used in Indonesia. For those from other countries, adapters are required for electrical appliances. The frequency of electrical current in Indonesia is 50 Hz. Video System.
In Indonesia, the PAL-system is used for television broadcasts. This system is not compatible with the NTSC systems used in Europe and in many other countries. If you purchase a video cassette in Indonesia, ensure it is recorded in the appropriate system for your video playback machine.
---
Language & ethnic groups
Like the rest of Indonesia, the people of Jakarta speak the official language Bahasa Indonesia. However, Bahasa Indonesia in this city is heavily influenced by the dialect of Jakarta's previously dominant ethnic group, Betawi. With rapid urbanization process in the city, the Betawi people have been pushed to Jakarta's suburban areas. Current population of Jakarta consists of various ethnic groups from different parts of Indonesia, including Chinese, Arab and Indian descents in commercial areas.
Metric Measures
Indonesia follows the international metric system. Temperatures, rainfall measures, distance, weights, velocity are expressed in metric units. Distance is measured in kilometers.
Population
City of Jakarta about 7.544.242 people
Credit Cards
Most major credit cards are accepted, but visitors are always advised to check with the vendor before a purchase is made. Cash machines with 24 hour access are available in many convenient locations.
Tipping
Some properties and resort hotels include tips or gratuities with group tours to simplify bookkeeping. This will usually include gratuities for housekeeping, bell service and food service. If meals are included in the price, customary gratuity will be calculated at 10 percent. Visitors should be advised that the standard tip in most restaurants is 10 percent.
---
Food and Beverages
An extensive variety of cuisine is available representing the multicultural flavor of Jakarta. Alcoholic beverages in bottles are sold in special stores. However, alcoholic beverages including beer and wine may be purchased in restaurants, hotel lounges, taverns, and nightclubs, which can be recognized by the sign "Licensed Premises". Minors are not admitted into bars.
Newspapers
English daily: The Jakarta Post, The Indonesian Observer;
Chinese daily: Harian Indonesia;
Indonesian dailies: Kompas, Suara Pembaruan, Media Indonesia and Bisnis Indonesia.
Important Telephone Numbers
| | | |
| --- | --- | --- |
| Information Jakarta Area | 108 | |
| Information Long Distance Indonesia | 100 | |
| Information International Calls | 102 | |
| Long Distance Overseas | 101 | |
| Long Distance Overseas (Jakarta only) | 104 | |
| Telephone repair | 107 | |
| Police | +62 21 5250110 | |
| Ambulance | 118 | |
| National SAR | +62 21 5502111 | |
---
Transportation
Taxis in Indonesia are cheap and plentiful, and thankfully air conditioned, making them the best way to get around, especially in the cities. Make sure the driver knows where you're going before getting in, and make sure he uses the meter. If he refuse, just get another taxi, they're usually not hard to find.
Blue Bird Taxi
+62 21 325607, 3143000, 7941234, 7981001
Silver Bird
+62 21 7941234, 7981001
Gamya Taxi
+62 21 325607, 3143000
ROUTES OF TRANS JAKARTA BUSWAY

Fare for Trans Jakarta Busway is IDR 3,500.- per trip.
CORIDOR I : BLOK M - KOTA (Distance: 12.9 kms, Shelter: 20)
Terminal Blok M - Sisingamangaraja - Jend Sudirman - MH Thamrin - Merdeka Barat - Majapahit - Gajah Mada / Hayam Wuruk - Pintu Besar Selatan - Taman Stasiun Kota.

CORIDOR II : PULO GADUNG - HARMONI (Distance: 14.3 kms, Shelter: 22)
Terminal Pulo Gadung - Perintis Kemerdekaan - Letjend Suprapto - Senen Raya - Kwini - Abd Rahman Saleh - Pejambon - Merdeka Timur - Perwira - Veteran - Gajah Mada - HBC - Hayam Wuruk - Majapahit - Merdeka Barat - Merdeka Selatan - Prapatan - Kramat Bunder - Letjend Suprapto - Perintis Kemerdekaan - Terminal Pulo Gadung.

CORIDOR III : KALIDERES - HARMONI (Distance: 18.7 kms, Shelter: 11)
Terminal Kalideres - Daan Mogot - Letjend S Parman - Tomang Raya - Kyai Caringin - Suryopranoto - Gajah Mada - HCB - Hayam Wuruk - Juanda - Pasar Bare - Veteran - Suryopranoto - Kyai Caringin - Tomang Raya - Letjend S Parman - Daan Mogot - Terminal Kalideres.

CORIDOR IV : PULO GADUNG - DUKUH ATAS (Distance: 11.85 kms, Shelter: 18)
Pulo Gadung - Pemuda - Pramuka - Tambak - Sultan Agung - Galunggung- Dukuh Atas.

CORIDOR V : KAMPUNG MELAYU - ANCOl (Distance: 13.5 kms, Shelter: 21)
Kampung Melayu - Jatinegara Barat / Jatinegara Timur - Matraman Raya - Salemba Raya - Kramat Raya - Gunung Sahari - Ancol

CORIDOR VI : RAGUNAN - KUNINGAN (Distance: 13.3 kms, Shelter: 19)
Ragunan - Warung Buncit Raya - HR Rasuna Said - Latuharhari.
CORIDOR VII : KAMPUNG MELAYU - KAMPUNG RAMBUTAN (Distance: 12.8 kms, Shelter: 15)
Kampung Melayu - Otto Iskandardinata - Letjend MT Haryono - Mayjend Sutoyo - Jalan Raya Bogor - Kampung Rambutan.