Program Highlights
25 papers will be presented in MoMM2007, 53 papers in iiWAS2007 and 31 papers in related workshops
We have an exciting scientific program that includes [ more... ]
Welcome to MoMM2007
Important Information
First Day, Opening Ceremony in UIN Syarif Hidayatullah Jakarta
After Opening ceremony continue, Tutorial in UIN Syarif Hidayatullah Jakarta
Second Day, Session in Santika Hotel Jakarta
Third Day, Session in Santika Hotel Jakarta
The Conference program is now available!
Read the Event Report on iiWAS/MoMM 2006 conferences published in SIGMOD record, June 2007.
Registration is open now.
The first day of the conference (3 December 2007) will take place at the campus of State Islamic University Syarif Hidayatullah Jakarta (UIN), the second and third days will take place at Hotel Santika Premiere Jakarta. There will be a bus shuttle from the following hotels (Hotel Santika, Hotel Menara Peninsula, and Hotel Ibis Slipi) to the campus of UIN and back on the first day. The schedule will be announced on the conference venue page on November 15th
Bazar Jajan Pasar (Betawi Traditional Snacks) Welcome Reception will take place on the first day at the campus of UIN at 16:30 where you will taste a variety of authentic Javanese and Indonesian food in an open environment
The conference gala dinner with Sundanese music and performance will be on the second day at an old preserved colonial building of the National Archive Museum. Buses will leave from hotel Santika at 18:00.
About MoMM2007
The Fifth International Conference on Advances in Mobile Computing & Multimedia (MoMM2007) is a leading international conference for researchers and industry practitioners to share their new ideas, original research results and practical development experiences from all mobile computing and multimedia related areas.
MoMM2007 is endorsed by the International Organization for Information Integration and Web-based Applications & Services (@WAS), organized by Syarif Hidayatullah State Islamic University Jakarta (UIN), Indonesia and supported by Johannes Kepler University Linz - Austria, Austrian Computer Society, Austria, Monash University - Australia, and La Trobe University, Australia and will be held from 3-5 December 2007, in Jakarta, Indonesia in conjunction with the Ninth International Conference on Information Integration and Web Based Applications & Services (iiWAS2007).
About Jakarta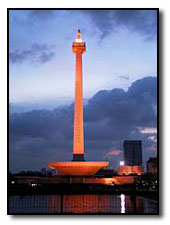 Indonesia is a vast and beautifully diverse country stretching for more than 5,000 km across the equator. "Unity in Diversity", which is the country's motto, accurately describes these diverse cultures and extraordinary people that this country has. It would simply be impossible to see everything that this, "world's largest archipelago" has to offer in a short length of time. The nation's capital, Jakarta, is the main gateway to Indonesia. It is a contrast of modern western architecture and traditional Indonesian culture. Its rapid growth into a metropolitan city reflects the economic, political, social and industrial development of the nation as well as the tourist attractions.
In Conjunction with
The 9th International Conference on
Information Integration and
Web-based Applications & Services (
iiWAS2007
)
Endorsed by :
Hosted and organized by
Supported by