Conference Dinner
The conference gala dinner will be held in the cristal ship cruising the Danube from Linz in Austria in the direction of Passau in Germany.
A glittering dream made of water and crystal ...
The clashing champagne bottle shattered at the bow and a rain of sparkling Swarovski-Crystals fell into the Danube stream. In the presence of many invited guests the ship's godmother Mrs. Fiona Swarovski-Grasser baptised the unique new ship under blusterous applause and wished that the ship may always have a "hands-width of water under the keel". The crystal ship is the jewel of the fleet of the Danube Ship Company Wurm + Köck – a swimming crystal palace, which emerged out of the co-operation with the leading crystal glass manufacturer Swarovski.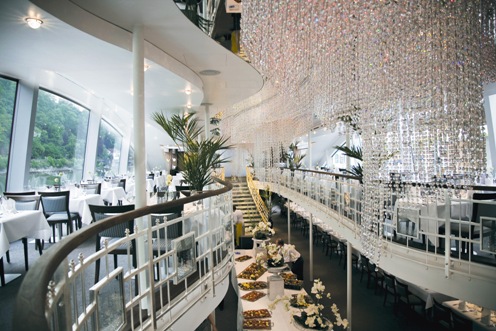 The plan to build the unique ship developed in the year of 2004. Erich Wurm and his business partners longed for a truly authentic ship. The inspiration for the design of the ship came from the ancient saga of the Danube River fairy Isa, who lives at the bottom of the Danube in a glittering palace at the height of the Jochensteinfelsen. In the middle of 2006, plans were ended in a record time of only 28 weeks. The passenger ship "MS Danube", was converted into the swimming crystal palace in the Linz shipyard ÖSWAG. Millions of crystals were used to decorate the ship – the large chandelier in the main room consists of about 70 000 sparkling single crystals.