In Cooperation with ACM SIGMM
| | |
| --- | --- |
| A message from the president of the International Organization for Information Integration and Web-based Applications and Services (@WAS). | |
Conference@Glance
About MoMM2008
The 6th International Conference on Advances in Mobile Computing & Multimedia (MoMM2008) is a leading international conference for researchers and industry practitioners to share their new ideas, original research results and practical development experiences from all mobile computing and multimedia related areas.
MoMM2008 is endorsed by the International Organization for Information Integration and Web-based Applications & Services (@WAS), organized by Johannes Kepler University (JKU) Linz – Austria, and supported by Austrian Computer Society, Austria, Monash University – Australia, and La Trobe University, Australia and will be held from 24-26 November 2008, in Linz, Austria in conjunction with the 10th international conference on Information Integration and Web-based Applications & Services (iiWAS2008).
Proceedings


Selected Papers Journals
About Linz
Upper Austria's capital Linz sprawls along the banks of the Danube and is situated on the ancient Salt Road, that used to link Salzkammergut to Bohemia. Thus Linz is an industrial and manufacturing center with a long history.
Linz, Austria's third-largest city, is picturesquely embedded in the Danube Valley and encircled by gently rolling foothills. Linz is a marvelous mix of classic centuries-old European architecture within a modern-day lifestyle. Linz offers a perfect blend of big town shopping opportunities, cultural activities, and fine wining & dining.
In Conjunction with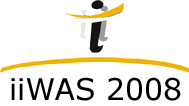 The 10
th
International Conference on
Information Integration and
Web-based Applications & Services (iiWAS2008)
Endorsed by
Hosted and organized by
Supported by
| | | |
| --- | --- | --- |
| Austrian Computer Society | Monash University, Australia | La Trobe University, Australia |