Kuala Lumpur & Culture
National Museum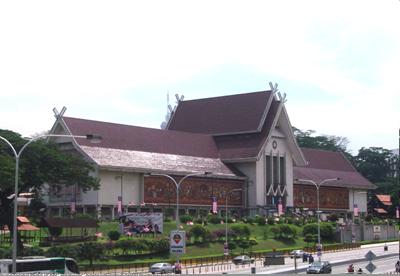 The National Museum (in Malay: Muzium Negara) is the Malaysian national museum, which is located outside Perdana Lake Gardens in Kuala Lumpur, Malaysia.
It is a palatial structure built in the style of Minangkabau architecture. Located atop a hill on Jalan Travers, it provides an interesting introduction to the history and culture of Malaysia. Set amongst its neighbourhood of historical buildings and romantic parkland, it was built in the style of a Rumah Gadang. Muzium Negara's architecture is a fine blend of the traditional Malay style and modern lines.
The museum building presents a panoramic view of the development of Malaysia, as depicted by the two large murals of Italian glass mosaic which extend across the Museum's facade. Muzium Negara opened on 31 August 1963, is a repository of Malaysia's rich cultural and historical heritage.
National Art Gallery
The National Art Gallery of Malaysia (Malay: Balai Seni Lukis Negara) was established on August 28, 1958, by Tunku Abdul Rahman, the first Prime Minister of Malaysia. The gallery is also a statutory body and an agency under the Ministry of Culture, Arts, and Tourism of Malaysia.
The gallery is situated along Jalan Tun Razak, on the northern edge of central Kuala Lumpur. It is located next to the Istana Budaya, which is Malaysia's main venue for all types of theatre including musical theater, operetta, classical concert and opera from local and international performances.
Petronas Twin Towers
The Petronas Twin Towers (also known as the Petronas Towers or just Twin Towers), in Kuala Lumpur, Malaysia are twin towers and were the world's tallest buildings, before being surpassed by Taipei 101.
The towers are still the tallest twin buildings in the world. They were the world's tallest buildings from 1998 to 2004 if measured from the level of the main entrance to the structural top, the original height reference used by the US-based Council on Tall Buildings and Urban Habitat from 1969 (three additional height categories were introduced as the tower neared completion in 1996).
National Palace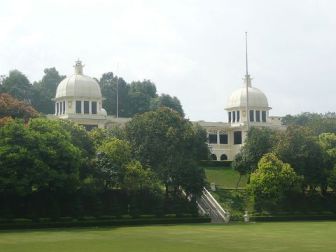 Istana Negara or National Palace is the official residence of His Majesty, the Yang di-Pertuan Agong (King) of Malaysia. It stands on a 28 acre (110,000 m²) site, located at a commanding position on the slope of a hill of Bukit Petaling overlooking the Klang River, along Jalan Syed Putra.
This majestic building is nestled within a serene and beautiful 11.34-hectare compound with a variety of plants and flowers, swimming pool and indoor badminton hall.
As the palace grounds are not opened to members of the public or tourists, the Main Palace Entrance is a favourite picture spot for tourists.
Central Market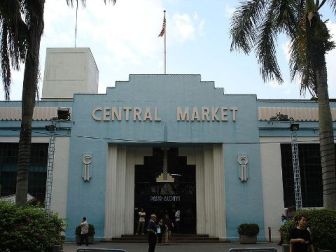 Central Market is a main attraction in Kuala Lumpur, Malaysia. This market is also known as Pasar Seni or Pasar Budaya.
Located along Jalan Hang Kasturi, a few minutes away from Petaling Street, Central Market which was built in 1888 was originally a wet market. It has since been classified as a Heritage Site by the Malaysian Heritage Society and it is now a landmark for Malaysian culture and heritage. Central Market is in the heart of Kuala Lumpur and strategically located with public transportation links to all major destinations and hotels while the KL Sentral railway station is only 1 ½ km away. The KL Sentral railway station provides fast and convenient connections to most parts of Kuala Lumpur as well as to the Kuala Lumpur International Airport.