Attractive Vietnam
'S'-Shaped Vietnam
Saigon's Attractions
Ben Thanh Market
Ben Thanh market
(from Vietnamese `Ben' meaning "wharf", and `Quy Thanh' meaning "turtle citadel") is a big marketplace in the downtown area of District 1, Ho Chi Minh City. The market is one of the earliest surviving structures in Saigon and today is considered one of symbols of Ho Chi Minh City, popular with tourists seeking local handicrafts, textiles, áo dài (traditional Vietnamese long dress), souvenirs, and local cuisine.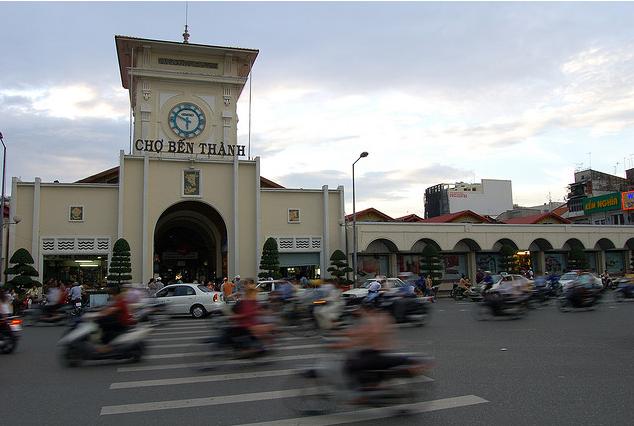 City Hall
Address: 86 Le Thanh Ton Street, District 1, HCMC.
Originally called the Hôtel de Ville and now formally re-branded the People's Committee Hall. It is a striking cream and yellow French colonial building beautifully floodlit at night. No entry, but the statue of the late President Ho Chi Minh in front is a popular place for photos.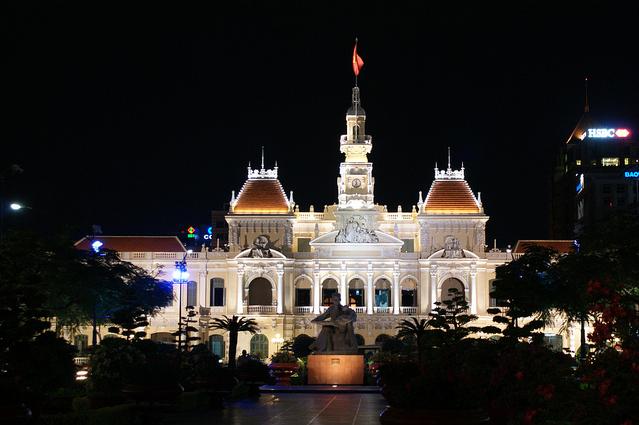 Reunification Palace
Address: 106 Nguyen Du Street, District 1, HCMC.
Formerly South Vietnam's Presidential Palace. On April 30, 1975, the war ended when tank 843, now parked outside, crashed through the gate. The palace includes the war rooms in the basement and the impressively kitschy recreation room, featuring a circular sofa.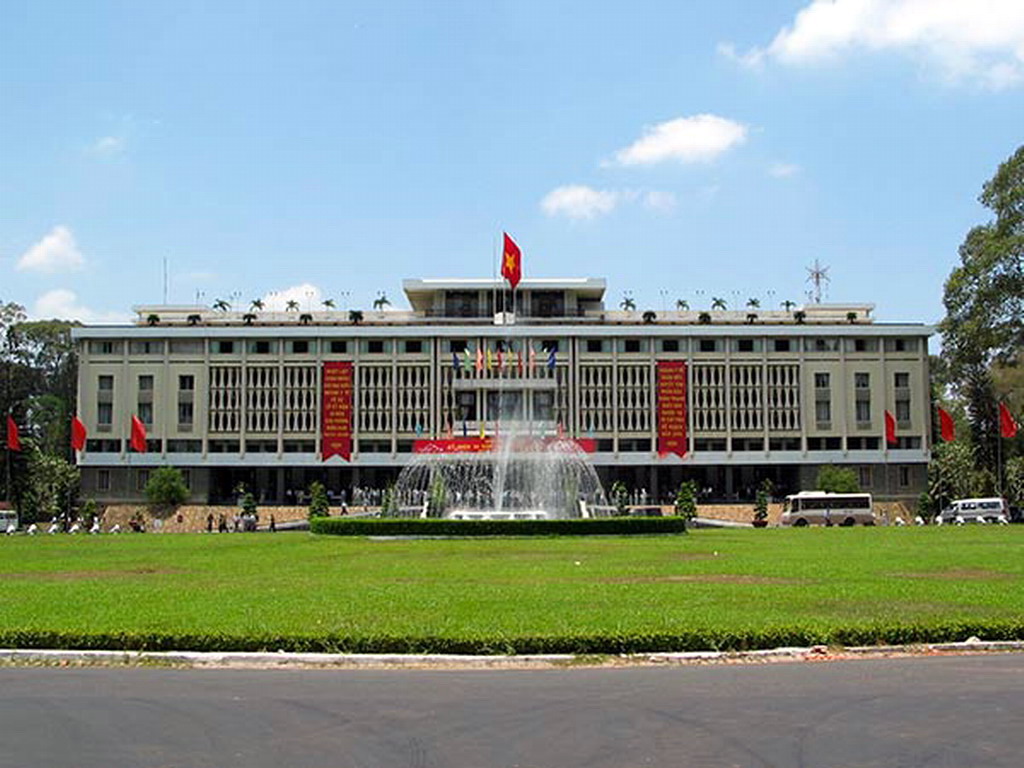 War Remnant Museum
Address: 28 Vo Van Tan St., District 1, HCMC.
Formerly known as the Exhibition House of American War Crimes. It contains countless artifacts, photographs, and pictures documenting American war crimes. Such documents illustrate the killing of civilians, spreading of chemicals, torturing of prisoners, and the effects of the war on the north. Planes, tanks, bombs, and helicopters are also on display. Outside the museum are some rooms displaying cultural products of Vietnam.
Cu Chi Tunnel
Cu Chi Tunnel is 70 km from Ho Chi Minh City in the Northwest. It is miniature battle versatile of Cu Chi's military and people during the 30-year struggle longtime and fierce to fight invading enemy to receive independence, freedom for motherland. It also is the special architecture lying deeply underground with many stratums, nooks and crannies as complex as a cobweb, having spares for living, meeting and fighting with total lengths over 200 km.
More...
Notre Dame Cathedral
Notre Dame Cathedral, or Saigon Notre-Dame Basilica to be exact, is a cathedral located in the downtown of Ho Chi Minh City. Established by French colonists, the cathedral was constructed between 1863 and 1880. It has two bell towers, reaching a height of 58 meters (190 feet). It is a magnificient building located at the Paris Square in Ho Chi Minh City downtown, attracting not only Catholics but also most tourists for its neo-Romanesque style architecture and a sacred atmosphere. Free entry.
Saigon Central Post Office
Located in the downtown Ho Chi Minh City, near Saigon Notre-Dame Basilica, the building was constructed when Vietnam was part of French Indochina in the early 20th century. It has a Gothic architectural style. It was designed and constructed in harmony with the surrounding area by the famous architect Gustave Eiffel.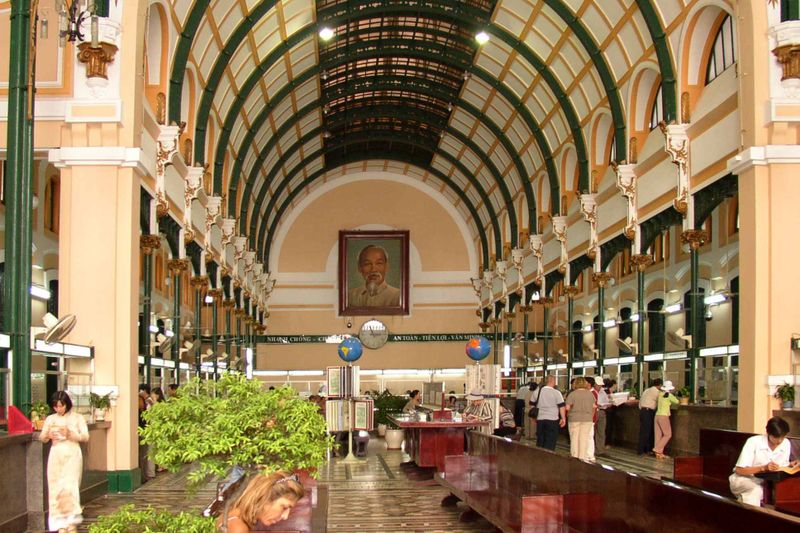 Vietnam Here & There
Phong Nha Cave - Quang Binh, Vietnam: World Heritage
My Son - Da Nang, Vietnam: World Heritage
Ancient Hoi An Town - Hoi An, Vietnam: World Heritage
Hoi An, a small town in Central Vietnam, was a busy international commercial port in the 16th and 17th centuries. Hoi An is one of the most popular of the Vietnam tourist attractions. It lures the tourists in Vietnam, with its ancient charm of temples, shrines, Chinese style tile-roofed wooden houses and a unique blend of Japanese and Chinese architecture. Today Hoi An stands as an example of ancient architecturee and is declared as a World Heritage by UNESCO for being one of the best preserved ancient Southeast Asian trading ports.
Night Festival in Hoi An, Vietnam
Phan Thiet, Vietnam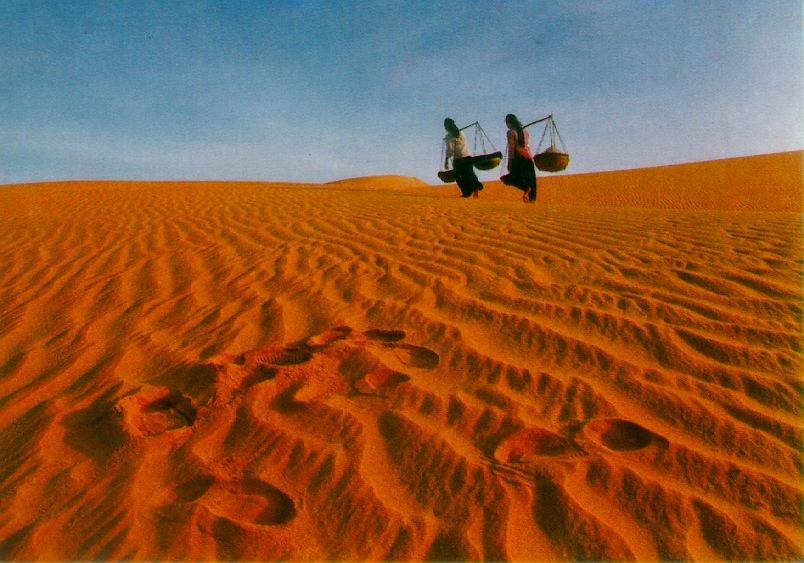 Paradise Cave (Dong Thien duong) - Quang Binh, Vietnam